I wrote last New Year about the tradition that we've followed for years that has simplified lately. This year we again kept it pretty simple.

Last year I had one simple resolution. Read the book of Philippians every day and absorb it and make it part of me. How did I do? Hmmm, I don't know how many days I actually did that. Most of my favorite life verses come from that book so it will still be important to me but I didn't meet that goal last year.
This year I've decided I'm gonna do a shotgun approach. If I shoot in enough directions I'm bound to hit something.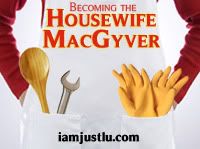 For sure I'm committing to reading the Bible every day for 90 days. I'm following a reading plan that will help me complete the entire Bible in that time.
Another goal for this new year is to write a little every week of my life story with the aim of eventually getting it into book form.
I will continue on my life change in eating healthier and moving more so that I can reach my goal weight by the end of this year.
I'm also joining up with Just Lu for her Housewife McGyver challenge. I have the button on my right hand side bar. Her first challenge for this month is to commit to something. I'm committing to reading the Bible as I stated above and also to working at least 3 nights a week on my sewing during TV viewing time so my hands are busy too.

Another button over there is Joe's Goals. The graph shows my goals and how I'm doing on meeting them.
For every positive goal met that day, I receive a point (or 5--depending on how I set it up) and for each negative habit I fail to break I lose a set amount of points.
Right now my goals are simple:
Read my Bible each day, take my vitamins, exercise, drink my 8 cups of water. Those are the positive goals. My negative habit to break is no sugar (except on Sunday).
The website will even contact me if I stop tracking my goals. How cool is that?
I'm hoping by having a few goals in different areas I will hit at least one (or more) of the targets and keep motivated.
Do you have any goals and resolutions set for this year?
Exactly One Year Ago (yesterday):
Home is Where the Heart Is
Exactly One Year Ago: Having a Hard Time